Jaipur can leave you with such awe, and if you are a first time visit for Jaipur sightseeing to this Pink City, the experience can be even more magical. The royal Rajputana legacy that is ingrained in its sights, sounds and colours can leave you flabbergasted, Visit all there by Our Affordable Car Rental.
Adding to the glamour of Jaipur are its exquisite restaurants. They are the most amazing dining places, where you can have a wonderful culinary experience. So, on your next trip to Jaipur, try out these 5 fabulous restaurants with you family and loved ones by Our Tempo Traveller. They are sure to make your trip to Jaipur a memorable one.
1. Peshawri – ITC Rajputana Hotel
Dining at the Peshawri in the ITC Rajputana Hotel can be a truly royal experience & their signature menu has the best foods from Mughlai and Northwest Frontier cuisines.
Prepared by well-known chefs, every dish is cooked with authentic ingredients and choicest of spices. The buttery Dal Bukhara, juicy Reshmi Kebab, tender Sikandari Raan, Spicy Butter Chicken are their must-try dishes.
They have an excellent buffet spread, costing Rs.1500/- per person.
2. Okra – Jaipur Marriott Hotel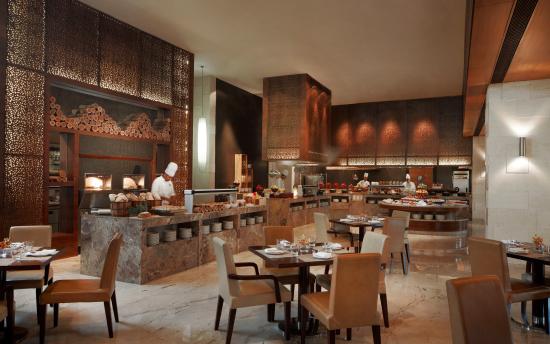 The interiors have exquisite decore and ambience & they have an excellent buffet menu for breakfast, lunch and dinner & their desserts are mouth-watering, along with the shakes and baked foods.
The cost of a buffet is Rs.1,100/- per person & there are also live food counters.
3. Skyfall by Replay
This lounge restaurant in Jaipur is situated right opposite Sawai Mansingh Stadium on the bustling Tonk Road. The rooftop seating gives you a good view of the outdoors.
The food is a delicious spread of North Indian, Continental, Chinese, Italian, Mexican cuisines. In the evenings and night, there are live bands performing with their orchestra and the dance floor is brimming with people.
There are TV screens to enjoy live matches and a hookah bar too.
The cost per person is Rs.750/-
4. Chowk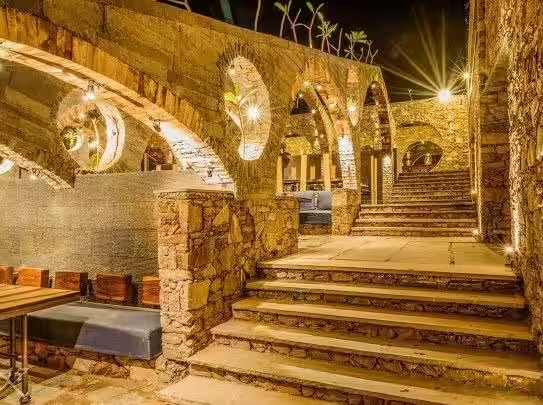 This fine dining restaurant in Jaipur is a beautifully decorated place with wonderful ambience and gorgeous interiors. This vegetarian restaurant has some delicious foods selected from North Indian cuisine.
From the light soups, starters, and curries , to elegantly prepared rice, tandoori dishes, and desserts, every dish is a treat for your taste buds. Not to miss their extravagant Thalis and Combo Meals!!
They have indoor as well as open-air seating & the cost per person is Rs.400/-
5. Kaleidoscope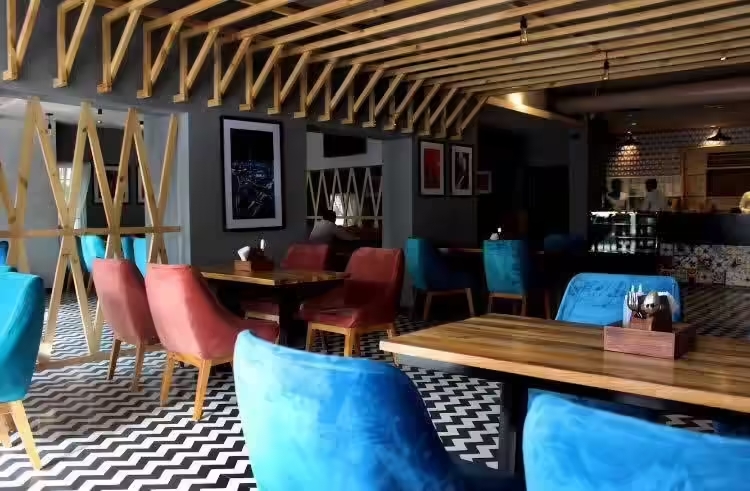 If you want to have a quick bite or a heavy meal, this casual dining café in Jaipur has plenty of dishes to choose from. Its trendy interiors, spacious indoor and outdoor seating, and relaxing ambience are perfect for a hearty meal.
The food menu has excellent choices from multiple cuisines like Mexican, Italian, Lebanese, North Indian, Continental and others. They serve both veg and non-veg dishes. Food is very tasty and delicious.
The cost per person is Rs.500/-
And if you are planning to visit Jaipur or do you need any help feel free to contact with us at +91 7300074449