You have been on a Rajasthan Tour and it cannot be without mentioning Chittorgarh. Chittorgarh, located at a distance of about 111 kilometers from Udaipur in Rajasthan, is a major attraction places to visit in Chittorgarh for tourists visiting here. Chittorgarh is famous for its fort. Apart from this, the grand palaces and temples here reflect historical and religious importance. Apart from this, the wildlife sanctuaries located here also attract tourists to visit.
The history of Chittorgarh, which is called the capital of Maharana Pratap, is as strong and beautiful as it is a symbol of bravery, the proof of this is found in the Victory Pillar located here. Presently Chittorgarh is known for the fort, palaces and Jauhar Kund located here. Thinking about visiting Rajasthan and Chittorgarh in Rajasthan then this article is very important for you. If you want to visit here from Jaipur then you can hire our taxi services in Jaipur. If you have a group tour of Chittorgarh then you can hire bus rental services and tempo traveller In Jaipur.
Today, in this article, we are going to give you all the information related to Chittorgarh and the tourist places located there. Let us read this article without wasting any time and get all the information related to Chittorgarh sightseeing.
Places to Visit in Chittorgarh
Some Interesting Facts About Chittorgarh
Once the capital of Mewar used to be Chittorgarh, where the king was Veer Maharana Pratap.
Chittorgarh fort is spread over about 700 acres of land. The length of this fort is 3 km, while the circumference of this fort is 13 km long.
The fort of Chittorgarh is considered to be the largest fort in India. It is also included in the UNESCO World Heritage Site.
Chittorgarh Fort has 19 main temples, including Sammideshwar Temple, Neelkanth Mahadev Temple, Surajkund, Jaimal and Phatta Ki Haveli, Shringar Chawri Temple, Kalika Temple, Jain Temple, Ganesh Temple, Adbadji Temple, Rani Padmini's Palace and Kumbhshyam Temple etc. . , The fort also houses a temple of Mirabai, who was an ardent devotee of Lord Krishna. The carvings of almost all the temples located in Chittorgarh Fort are unique.
Ratneshwar Talab, Kumbh Sagar Talab, Hathikund, Jaimal Ji Ka Talab, Bhimlat Talab, Chitrang Mori Ka Talab are also located in this fort.
The fort of Chittorgarh is almost fish shaped. Earlier there used to be 84 water sources in the fort, out of which only 22 are left at present.
Chittorgarh Fort has 7 gateways, which have been given different names by the kings. Ram Pol, Laxman Pol, Padal Pol, Ganesh Pol, Jorla Pol, Bhairon Pol and Hanuman Pol. These are named after the temple of the deity located at each entrance. Like Lakshman Pol, Ganesh Pol, the temple of Lord Ganesha, Lord Lakshman is situated near the entrance, hence it got its name.
Chittorgarh Popular Tourist Places
There are many famous and attractive places to visit in Chittorgarh, here we are giving you detailed information about some of them:
Chittorgarh Fort

Chittorgarh fort is included in the list of largest forts in India. It was built during the Maurya period in the seventh century BC. Due to its historical importance, UNESCO has included it in its World Heritage List.
Very historical and beautiful buildings like Vijay Stambh, Kirti Stambh, Rani Padmini Mahal, Rana Kumbha Mahal and Meera Bai Temple are located inside the fort, which make this palace very special and beautiful. The fort is situated near the Gambhiri River and at a height of about 180 meters from the Aravalli Mountains.
Kalika Mata Temple
Kalika Mata Temple is a temple dedicated to Maa Kalki i.e. Goddess Durga, which is one of the main temples of Chittorgarh. Although at present this temple is in ruins but the architecture of this temple still amazes the tourists.
Intricate carvings have been done on the ceiling, pillars and gates of this temple. The temple is built using the Prathira style of architecture. The idol of Maa Durga is huge in the temple.
If you come to Chittorgarh, then definitely come to visit this temple. Perhaps your trip to Chittorgarh would be incomplete without visiting this places.
Shathis Deori Temple
During your visit to Chittorgarh Fort, you must visit the Shathis Deori Temple. The temple is located close to the Fateh Prakash Palace, which is considered one of the holy places. This temple is a part of the Jain temple complex and is also considered to be the largest temple in that complex.
At one time in history, there were 27 more temples inside this temple. Although at present there is no trace left of these monuments. The temple belongs to the Svetambara sect of Jainism, dedicated to Lord Adinath. This temple was built in 11th century. The life and qualities of Lord Adinath are depicted in the temple.
The beautiful carvings and adorable sculptures done in the temple mesmerize the visitors. If you want to enjoy the beautiful architecture of 11th century, then definitely visit this temple during your trip to Chittorgarh. This temple has also been declared a UNESCO World Heritage Site.
Ratan Singh Palace
Ratan Singh Palace is located in the Chittorgarh Fort. It is a very attractive and famous historical monument. Ratneshwar Lake is located here, which adds to the beauty of this palace.
Tourists coming here are amazed to see the traditional architecture of Rajasthan, grand courtyard and entrance gate, huge walls, pavilions, balconies, pillars and chhatris. Even though this temple is currently fragmented, but even today this temple remains a center of tourist attraction places to visit in Chittorgarh.
Vijay Stambh
Vijay Stambh is also called Vijay Minar. The Vijaystambha was built by Maharana Kumbha to commemorate his victory over Mohammad Khilji. This pillar is so huge that it can be easily seen from any corner of the city.
This 9-story pillar has sculptures of Hindu gods and goddesses. The topmost story houses an image of the Jain goddess Padmavati. The interior design of this pillar has carvings of weapons, music and musical instruments etc. of that time, due to which it is more attractive and famous.
Kirti Stambh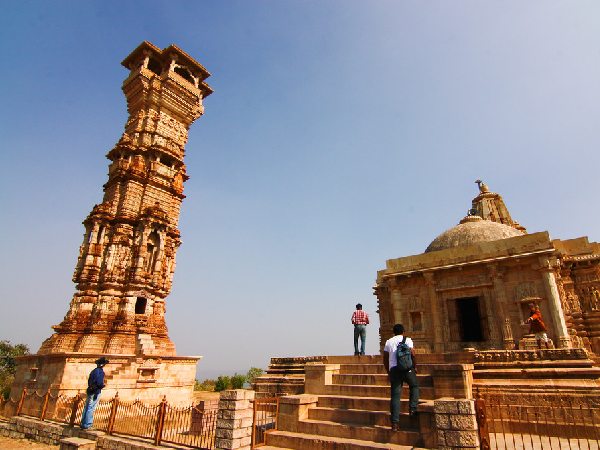 This pillar is a built in the 12th century, which is located inside the Chittorgarh Fort. Kirti Stambh is the center of main attraction for the tourists visiting Chittorgarh.
Kirti Stambh stands as a memorial to Jain Tirthankar Adinath, this pillar was built by Jain merchant brother-in-law Bhavar Vala for the spread of Jainism. This 22 meter high pillar was built during the reign of Rawal Kumar Singh.
Gaumukh Kund, Pilgrimage Center of Chittorgarh
Gaumukh Kund, located inside the Chittorgarh Fort, is a major pilgrimage site here. Gomukh means mouth of a cow and this place is named as Gaumukh Kund because the water here comes in the shape of a cow's mouth.
It is believed that any pilgrim who visits Hindu spiritual sites, after returning, comes to visit this holy Gaumukh Kund to complete his journey.
Lush green trees and plants are located around this Gaumukh Kund, which makes this environment very picturesque. You must visit this religious place during your visit to Chittorgarh Fort.
Meera Mandir is a Religious Place in Chittorgarh
Meera Mandir is a historical and religious attraction. It is situated in the premises of Chittorgarh Fort. Everyone knows about Meera Bai, who was a Rajput princess and an ardent devotee of Lord Shri Krishna.
This temple is dedicated to the Meera, which was built by the Rajput king Maharana Kumbha. If you want to experience an amazing peace then you must visit this temple during your visit to Chittorgarh Fort.
It is believed that whenever one enters this temple to offer prayers, one experiences wonderful happiness and peace. Tourists meditate here.
Maha sati
This place is situated at a distance of 110 km from Chittorgarh, this place is considered very sacred. Because the last rites of the rulers of Udaipur were performed at this place. If you want to visit the place of Mahasati, you can go there by hire a car in Udaipur.
Its structure is very beautiful and there is also a reservoir built here, which is said that the water of the river Ganges comes out of this reservoir. This place is the center of tourist attraction Places to visit in Chittorgarh.
Saawariya Ji Temple
Sanwariya Ji Temple, located in Chittorgarh, Rajasthan, is a temple dedicated to Lord Krishna. Savariya Ji Temple is the most famous temple of Chittorgarh. This temple is situated at a distance of about 40 kilometers from Chittorgarh.
This temple is considered to be a very beautiful and holy place. Tourists coming to Chittorgarh must visit this temple. If you want to spend some moments in peace, then definitely visit this temple.
Fateh Prakash Palace
This palace was built by Maharana Pratap. Fateh Parkash palace is situated inside the Chittorgarh Fort. This palace is very big, grand and beautiful structure.
There are many beautiful structures like Ganesha idol and fountains inside the palace, which will leave you spellbound. This palace gives an opportunity to know more closely the history of Chittorgarh Rajasthan.
Palace of Rana Kumbha
This palace is a very interesting place for those visiting Chittorgarh, seeing the ruins of this palace, This palace itself shows a glimpse of a very grand and wonderful history.