Once, Udaipur was a capital of the Rajput rulers, who ruled over Rajasthan. Today, it is one of the most beautiful cities of Rajasthan and the most desired tourist destination of India. Tourists can see Udaipur's rich culture and royal heritage in almost every historical monument they visit – palaces, forts, temples, lakes, museums, ghats, gardens and Udaipur sightseeing. Some of Udaipur's most famous tourist attractions are as below you can visit & enjoy here by book our Car Rental and Tempo Traveller. The Most attraction of Udaipur is here:
1. Lakes of Udaipur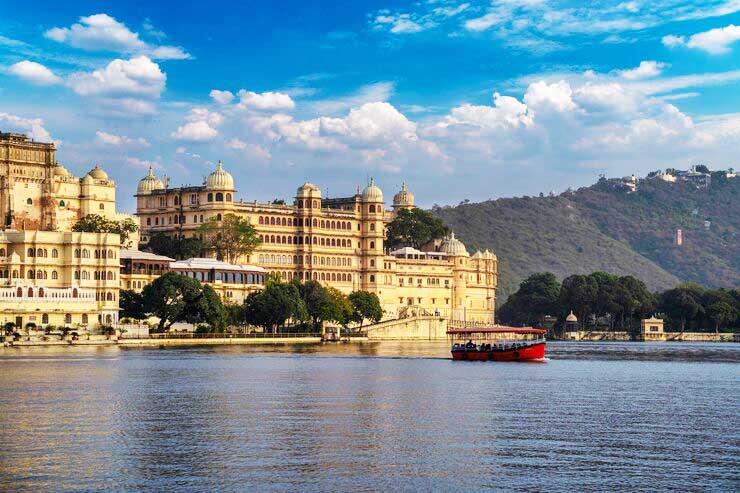 Lake Pichola is the oldest and the largest lake in Udaipur. Tourists can take a boat ride on this lake and view panoramic views of the palaces, temples and surrounding areas. Lake Palace and Jag Mandir are built on two islands in this lake. Fateh Sagar Lake is also an artificial lake in which tourists can visit three islands.
The islands have been converted into beautiful gardens with zoos and a solar observatory. Govardhan Sagar Lake is ideal for walking, jogging and enjoying pleasant views of sunrise and sunset.
2. City Palace

The architectural beauty of City Palace is breathtaking, which makes it a top tourist attraction of Udaipur. Within its massive structure, there are a series of courtyards, balconies, terraces, hanging gardens, and corridors.
Besides, there are lofty towers, arched gateways, and domes that add beauty to this palace. The palace stands on the banks of Lake Pichola.
In Darbar Hall, visitors can see the most extensive private collection of rare and precious crystals called Crystal Gallery. It contains an elegant display of dinner sets, champagne bottles, candle stands, and even furniture made of diamonds.
3. Lake Palace

The most famous attraction of Udaipur is undoubtedly the Lake Palace. This pleasure palace, built by Maharana Jagat Singh II, is a work of magnificent architectural beauty. It is mounted on an island in Lake Pichola and seems to float on the crystal blue waters of the lake.
Lake Palace is now transformed into a heritage hotel maintained by the Taj Group of Hotels and there are opulent rooms with modern facilities, fountains, gardens, terraces, and balconies inside the palace. Visitors can take a heritage walk in this palace, even if they can't afford to stay in the hotel.
4. Jagdish Temple

Jagdish Temple is one of the largest temple in Udaipur & is located close to City Palace. Jagdish Temple is a top tourist attraction of Udaipur, which was built-in 1651 AD, & is dedicated to Lord Vishnu.
Its breathtaking architecture with carved pillars, painted walls, decorated ceilings, spacious halls, and corridors are enough to impress tourists. The high spire of the temple has sculptures of elephants, dancers, and musicians. It was built in accordance with the ancient Indian science of Vastushastra.
5. Jag Mandir

Jag Mandir is a beautiful palace built on an island in Lake Pichola. The Maharanas of Mewar built this palace as a summer resort and for hosting parties.
The construction of the palace is a blend of Mughal and Rajput architecture. Besides Jag Mandir, visitors can see Zenana Mahal, Kunwar Pada ka Mahal, Gul Mahal, Darikhana, and Bara Patharon ka Mahal.
6. Saheliyon ki Bari

Saheliyon ki Bari or "Garden of the Maidens" was built by Maharana Bhopal Singh for the maidens who accompanied the princess. This garden was a place where the maids could sing, dance, and indulge in recreational activities.
The garden was built along the banks of Lake Fateh Sagar and has water pools with lotus flowers, marble elephants, elegant fountains, and kiosks. The lush lawns and abundant greenery of this garden has made it a favorite among lovers.
7. Bagore ki Haveli Museum
This 18th-century royal house of the Maharanas of Udaipur stands on the banks of Lake Pichola, near Gangaur Ghat. Today, it houses a museum where visitors can see the royal collection of dice games, jewelry boxes, copper vessels, hand fans and other antique items.
The haveli has 100 rooms with the vintage collection of fresco paintings, costumes, weapons, glass mosaics, and antique furniture. In the evening, a dance and music performance is held amidst glowing lights for entertaining the guests.
8. Monsoon Palace
The Monsoon Palace was initially built to be used as an astronomical observatory to monitor the movement of the monsoon clouds and a residential resort of the royal family.
Established in 1884 by Maharana Sajjan Singh, Monsoon Palace is also called Sajjangarh Palace. This hilltop palace looks breathtaking with its white marble construction and magnificent architecture, and visitors can have a panoramic view of Lake Pichola, Aravallis, and the city of Udaipur. Inside the palace, visitors can have a look at the royal antiquities in the museum, situated on the ground floor of the palace.
9. Shilpgram
The rural arts and crafts complex of Shipgram is situated near Fateh Sagar Lake in Udaipur. Every December, Arts and Crafts Festival is held here. Tourists visit this fair in large numbers to see and buy rural crafts like wall paintings, pottery, bead jewelry, cane furniture, embroidery items, besides others.
The music and dance performance by rural artists in the vast amphitheater is very famous among tourists visiting this fair.
10. Temples of Udaipur
There are many temples in and around Udaipur. Shrinathji Temple, situated in Nathdwara, is famous for its black idol of Lord Shrinathji. These temples are sacred pilgrimage center for the Hindus & Vaishnavas, and one of the most vibrant temples of India.
Bohra Ganesh Temple is a 350-year-old temple, dedicated to Lord Ganesh and has an old belief of granting wishes of devotees of Bohra Ganesh.
The Sahastra Bahu Temple was built in 1092 AD and is dedicated to Lord Vishnu. The temple now lies in ruins and tourists can admire the delicate carvings and splendid architecture.
11. Bhartiya Lok Kala Mandal
Bhartiya Lok Kala Mandal is an institution that encourages the folk arts and crafts of Mewar region of Rajasthan. The museum in the main building has a rare compilation of rural dresses, folk musical instruments, ornaments, puppets, masks, dolls, folk deities, paintings, tribal jewelry and other art objects.
The puppet show held in the museum is a great tourist attraction drawing many tourists to Udaipur.
12. Sajjangarh Biological Park

Located beneath the majestic Monsoon Palace, Sajjangarh Biological Park is a zoological garden in Udaipur. The zoo has more than 60 animals including tigers, lions, panthers, ostriches, alligators, monkeys, bears, other mammals, birds, and reptiles.
The park also has other facilities like children's park, drinking water booths, washrooms, canteen, cycle, golf cart for touring the zoo, and vehicle parking.
13. Rajiv Gandhi Garden
Udaipur is famous for its gardens, and one of the biggest is Rajiv Gandhi Garden. The garden has a children's play area where they can play on slides, merry-go-round, swings, spider-web, etc. Lotan Magri or Rolling Hill, located inside the garden, is a place where people can have fun while rolling from the hill on soft grass. There are fountains, statues of wildlife, food court and lush greenery which attract tourists to Udaipur.
14. Udaipur Solar Observatory
Located on an island in Fateh Sagar Lake, Udaipur Solar Observatory is considered the best in Asia. It is modeled on the solar observatory at Big Bear Lake in southern California.
The Observatory location on an island makes it perfect for celestial observations, and also the cloudless skies over Udaipur are free from pollution, which makes it an ideal location.
There is a range of powerful telescopes and other equipment inside the observatory for capturing high-resolution images of the sun and carrying out precise observations.
15. Moti Magri
Moti Magri or Pearl Hill is a beautiful hill which commands gorgeous views of Fateh Sagar Lake. On top of Moti Magri, stands the memorial of the great Rajput warrior king Maharana Pratap riding his favorite horse Chetak. This bronze memorial is a great architectural marvel of Udaipur.
Moti Magri itself is a place of lush greenery. There is a Japanese rock garden near the memorial. Tourists come in significant numbers to Moti Magri for photography and for learning about the rich history of the Mewar kings.
16. Ghats of Udaipur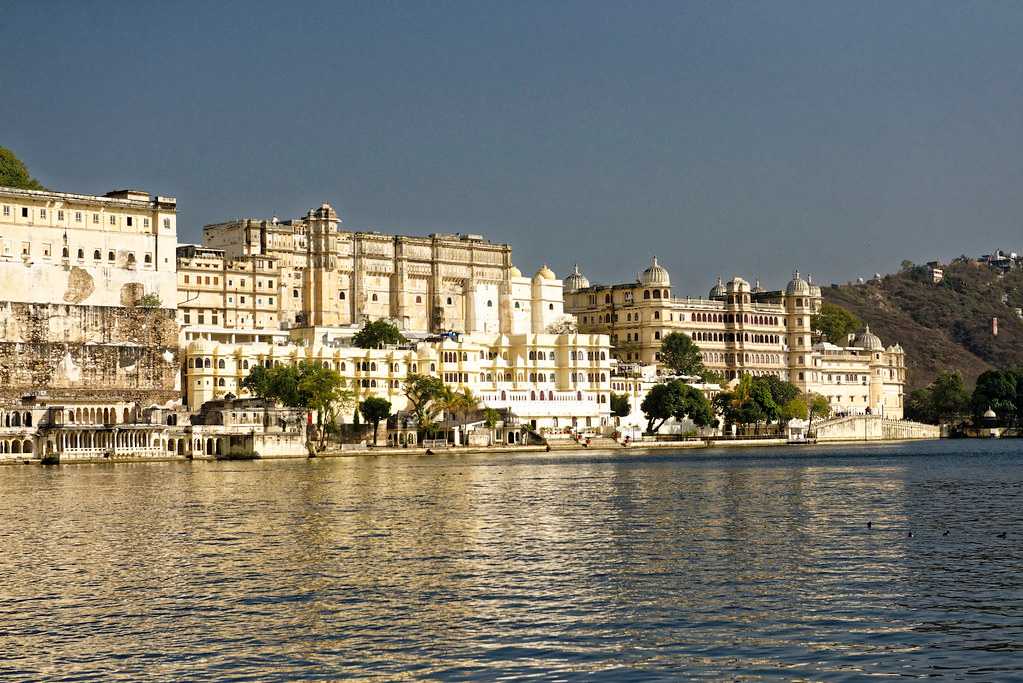 Udaipur is known for its beautiful ghats. There are four ghats in Udaipur, which are famous landmarks of Udaipur.
Gangaur Ghat is situated on the banks of Lake Pichola. It is the ultimate point for relaxation and spending a quiet time, sitting on the steps, and watching the calm waters of the lake. Gangaur Ghat is best for photography as it gives many picturesque views of Lake Pichola, the temples, and grand monuments all along the banks of the ghat.
Mornings and evenings are the best times to come here as it gives the best views of sunrise and sunset. Many television serials and movies have been shot here.
Ambrai Ghat is also situated on the banks of Lake Pichola. It is perfect for photography as one gets to click pictures of the palaces, temples and the magnificent landscapes all along the ghat. In the evening, when the lights illuminate the city of Udaipur, it is a breathtaking to watch the beauty of the ghat.
Visitors can take a boat ride or jetty ride and have splendid views of City Palace, Lake Palace, and the surrounding countryside.